By Sandra Clitter  http://www.yourtechtamer.com/blog/2015/09/to-windows-10-or-not-to-windows-10-that-is-the-question/
Hi, Gang!
…and my now 88-year-old Uncle has the answer!! (we're not surprised, are we?)
Well, by now most of you have received some kind of pop-up window on your computer from Microsoft encouraging you to upgrade to Windows 10. A number of you have called or written asking if you should do it. My basic answer has been 'I'd wait until you get a new computer', as I've found that typically, operating systems operate better when they are 'born' on a particular machine (meaning that they shipped from the factory with that operating system installed), however, over the years, Microsoft has gotten better about upgrades actually working (what a concept), so my answer isn't quite as adamant as it was a few years ago.
I've hit the 'ignore' when prompted to upgrade my own machine (a less-than-one-year-old Windows 8.1 machine). When I arrived for a visit with my Uncle, I figured that he would ask me to do the upgrade (he always likes to have the 'latest and greatest'). Imagine my surprise when I found out that he had ALREADY DONE IT!! Yeah, Uncle! And, according to him, it went flawlessly.
If you choose to make the upgrade, make sure that you have PLENTY OF TIME – it takes about 3 hours to complete! My Uncle's biggest complaint was that it took too long – not "too hard", not "it didn't work", just "it took too long".
For those of you looking for 'what does it look like', here are a couple of shots from my Uncle's computer (no, I didn't rush and upgrade mine).
Here is the bottom toolbar (well, most people have the toolbar positioned at the bottom)…notice that 'search' is right there:

The icons in the middle (just to the right of 'Search the web and Windows') get the little line under them when they are 'active' (i.e. the window is active or minimized, but open). You can see that on the folder icon (third from left) and the Malwarebytes icon (farthest right). The little 'booklike' icon on the far left will display all of your open programs, then you just click the one you want to return to to get back to that program. The envelope icon is for the well-integrated Outlook.com application. I did add my Uncle's AT&T email to this icon in just a jiffy (just entered the userid and password). Now, he can move back and forth between his Hotmail.com email (a Microsoft email) and his AT&T email with just one click. (And yes, he does have multiple email accounts!)
The biggest 'difference' from Windows 8.1 that I see is that the Tile screen (the Windows 8.1 Start Menu) and the traditional Desktop Start menu have been combined into one screen which is kinda cool (in my opinion):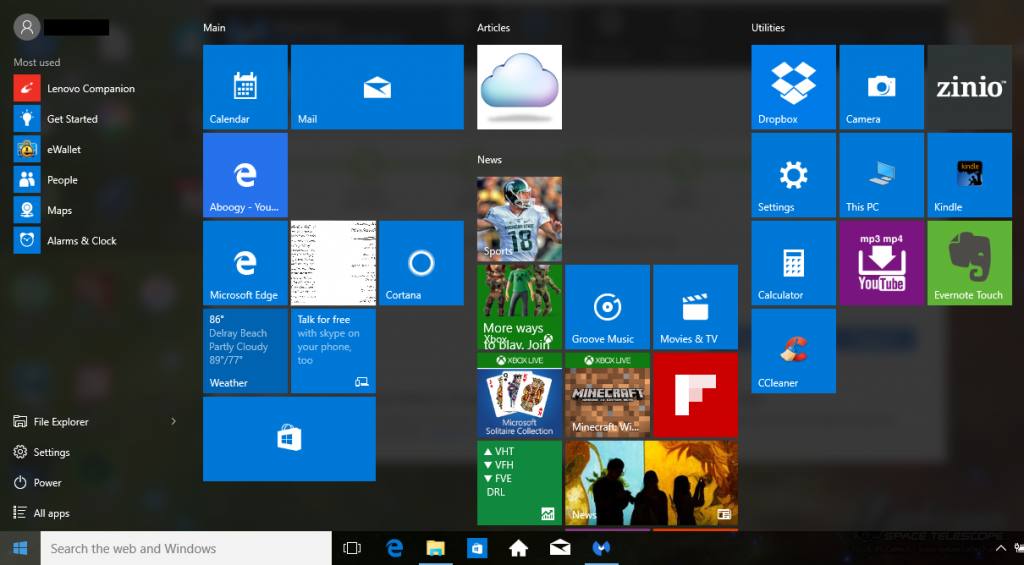 If you click the 'All Apps' button (like the old 'All Programs' button under the traditional 'Start' menu), you get a more 'traditional' list of programs (which they now call 'Apps' – everything is an 'App').
The Windows 8.1 Charm Bar is gone…the functions incorporated in various places (like the 'Settings' button that you see on the new 'Start' menu).
Bottom line: As long as you have the TIME to upgrade, it'll probably go OK. Just realize that my Uncle's experience may not match yours – every computer configuration is different – even if they started out the same out of the box. One person's experience does not guarantee your experience.
BEFORE YOU TRY IT OUT, go to Google (or your favorite Search engine) and search for "is 'insert the name of your critical program here without the apostrophes' compatible with Windows 10" where you remove the 'insert the name of your critical program here without the apostrophes' and insert the name of YOUR program. That way, you know BEFORE you go through the upgrade if a critical program you use will have an issue or not (and whether there is a fix available). Do the same for your specific printer model (e.g. HP OfficeJet 8610) and any other 'periferals' (scanners, etc.) that you might have.
Happy upgrading!
---