By Sandra Clitter  http://www.yourtechtamer.com/blog/2012/06/create-your-own-pdf-forms-you-know-fill-in-the-blanks/
PDF documents are pretty ubiquitous. Many of us who work in offices see them every day. Most times, they are just text, or text and images. Someone saved a Word document into a PDF format, so it can't be edited, but can be read by everyone (well, everyone who has a PDF reader – and that's most of us).
Sometimes, a PDF document is really a form that the user can complete/return. Some of them are just a form to print out (you can't fill out the information on the computer). Some of them are interactive – that is, you can fill in the information right on the computer screen, then print/email the document. That's kind of cool if you're asking someone for information in a specified format. Making someone print out a 'static' PDF (one where you can't fill in the blanks) requires them to fill in the entries by hand, scan the document back in so they can email it to you, or send you the printed out copy. If you send them a regular Word document (so they can fill it out on the computer), they can change things up – leaving the original formatting useless. If it's a contract or other 'official' document, they could change the terms and return it to you and you might not even notice!
So, I would LOVE to have an inexpensive tool where I could create 'interactive' PDF documents, but it wouldn't cost me a fortune. I don't spend my life doing things like that…I only do it once in a great while.
I always thought that the only way to create these 'form' PDF's was to have the full-blown Adobe Acrobat product (cost at time of this writing – $449.00 on Adobe's site). I don't know about you, but that's NOT a price that I can stomach. I need to create PDF forms occasionally. When I've had the need, I've tended to just created Word documents and hope for the best. Now, I've found a new program that allows me to create Form PDFs for FREE – YEAH!! The promised land!
In the past, we've covered creating a 'normal' PDF document with a free PDF writer (http://www.yourtechtamer.com/blog/2010/12/creating-pdfs-for-free/, however, this was just to turn a 'normal' document on your computer into a PDF – its not 'interactive'.
Welcome PDFescape! I'm so glad that we found you!!! To quote from their website (www.pdfescape.com), "PDFescape is a free service. Users of PDFescape can upload files to view them, modify them, form fill them, and even create new forms. No logo, watermark, or other tag is added to your file. PDFescape is truly free." Hip-hip-hooray!!!
Let's see what it's like (click image for larger view):
First, there is NO SIGNON required. If you want to save your documents to PDFEscape's site, then you need to create a signon, but otherwise, it is an 'open' world!
This document took me under 5 minutes to create – and I had never looked at how to do this before now.
You simply click on one of the types of information you want to put on your PDF (I'll click on 'text'):
Then you click on your blank document and start typing. When you're done, click the yellow bar to disable and move onto the next item. Click on images and you can upload images to your document. Form-fields are a snap: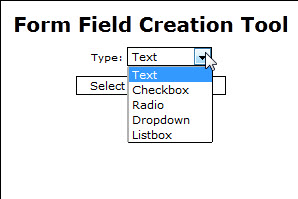 There are five (count 'em FIVE) types of form-fields you can add: Text, Checkbox, Radio button, Drop-down, or Listbox. I added a text field and a drop-down. For the drop-down, I created several selections.
In order to make the choices for the drop-down field, I had to right-click on the field I had inserted and select 'Properties':
Then, I just typed in the values that I wanted the user to see (DE, NJ, PA, NY):
When I was done 'creating' my entire document, I simply hit this button:

and I was able to download/save the document to my local computer.
Remember, I never created a signon, so when I finished my 'virtual' work, I had to save it somewhere! (If I'd created an account, I could have saved the file online).
What were the results?
I could then send this document to anyone to complete…here's what a completed form looks like: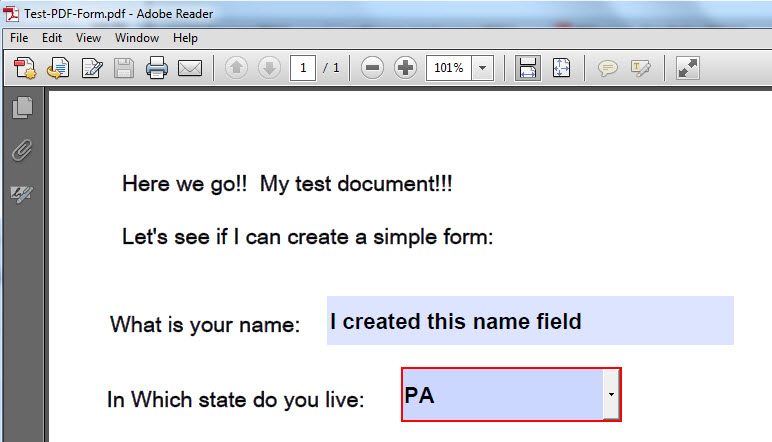 Now, all that anyone needs to do is print it to a PDF and email it back to me! I have a lovely, consistent, legible form to work from. HOORAY!!!
---