Databases are fine, but all the information in the world means mothing unless you can get to it...
We realize that having ready access to those mission-critical reports, or daily repors can make or break a company's productivity.
Whether the data is stored in one...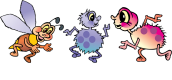 Website design and support can take many forms...
from simply updating text, to making interactive data pages, websites...

Data, data, data * Help me manage my information!
Today, businesses rely heavily on information...information about customers, finances, vendors, lending partners...

We aren't in business long before we find that we're spending an awful lot of time looking for, and analyzing, data. You want sales, profit and backlog reports. Banks want Cash Flow Reports, clients want Purchasing reports. EVERYONE wants reports!
We know the data that we want to have readily available, sometimes we even think we have it around here somewhere...

We are going to purchase a new system, or have just purchased one. Maybe we want to start implementing a system and we don't have the internal staff to do that.
Professional project management services help to guide you through system analysis, design or selection, and implementation, keeping that project on time and under-budget!