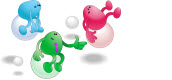 WE'RE GLAD YOU JOINED US. WHETHER THIS IS YOUR FIRST TIME HERE, OR YOU'RE A RETURNING VISITOR, WE'RE GLAD THAT YOU STOPPED BY TODAY.
Data, data, data...It's all about the data. We're here to be your Information Architects.
Ever had the feeling that your computer system is holding your data hostage?
Do you or your staff seem to spend their days keying/re-keying data from one system to another?
Can you see the data that you want on the screen, but you can't get it in a format you want for a report? Weren't computers supposed to prevent all this?
RELAX! We're here to help. GIve us the problem...we'll come up with a solution.


CRITICAL REPORTING CAN BE AUTO-GENERATED ACROSS SYSTEMS
Data stored in various databases throughout your organization can be combined to create the perfect management report at the touch of a button.

DO YOU NEED TO MOVE DATA TO/FROM THE WEB OR BETWEEN DIFFERENT SOFTWARE SYSTEMS
We can create a 'one-buttonable' system which will take data collected on the web and move it to another system, or vise-versa.
WEB DESIGN, DEVELOPMENT, And SUPPORT
Want to snazzy up the look of your business? Need to create some interactive elements of an existing site?
Websites are getting to be more and more interactive, both collecting and disseminating information. You've got to keep the invormation accurate and timely. We can help.